Today's featured image was taken at my college honors convocation.
My professor (that's him on the far left) nominated me to be the honors speaker.
Neither of us ever heard back.
When we heard the chosen speaker's prepared speech, we both lost our minds.
Of all the advice given by my nemesis, his tired, "Shoot for the moon! Even if you miss, you'll land among the stars," offends me most.
Well…that and the statement, "Develop what you're worst at!"
I am countering his clichés with my own.
Thanks to Bookmark Your Thoughts for the inspiration.
ACTIONS SPEAK LOUDER THAN WORDS
A BOOK THAT WASN'T OR COULDN'T BE BETTER THAN THE MOVIE
I've fought so many people about The Lord of the Rings films.
These arguments sound like a mess of, "TOM BOMBADIL," and, "EXTENDED EDITIONS," and, "MOST IMPORTANT FANTASY FILMS EVER MADE."
To cope, I washed my hands of both the books and the films. I stopped involving myself.
I'm about to break that vow.
The Two Towers is a SLOG.
90% of the book involves characters recapping events for each other.
A lot of people think the fake death of Aragorn was a silly addition to the film.
I liked it. The Two Towers is my favorite of the movies, hands-down.
THE GRASS IS ALWAYS GREENER ON THE OTHER SIDE
A RAGS TO RICHES TO RAGS STORY
Poor Infernal Devices. I pick on you too much.
I'm using Jenna's interpretation of this prompt.
Summary of the series:
First book: kinda boring
Second book: GREAT
Third book: ugh, really?
THE APPLE DOES NOT FALL FOR FROM THE TREE
A PARENT-CHILD RELATIONSHIP THAT YOU LOVE
Vera and her dad talking about each other in therapy warmed my heart.
All the reviews were right: their relationship was the most gorgeous part of this tough book.
YOU CAN'T JUDGE A BOOK BY IT'S COVER
A GREAT BOOK THAT NEEDS A BETTER COVER
LOOK at this thing.
Looks stupid, right?
Well, it's NOT.
The romance is QUITE moving, actually.
But you wouldn't know that from the awful cover.
YOU CAN'T PLEASE EVERYONE
A BOOK YOU HATE THAT EVERYONE LOVES
You know what you did, The Night Circus.
I live on a lonely, Night Circus-hating mountain.
Someone climb up and visit.
Stay for a while.
Please.
WHAT DOESN'T KILL YOU MAKES YOU STRONGER
WHAT'S A BOOK THAT MADE YOU A BETTER PERSON FOR HAVING READ IT?
Emotionally Healthy Spirituality helped me work through some stuff.
Peter Scazzero is my new best friend.
LOVE IS BLIND
A BOOK WITH A DISABLED CHARACTER OR ACTUAL BLIND LOVE
I'm not allowed to use The Scorpio Races anymore, but it COULD QUALIFY.
My actual first thought was of Iggy from Maximum Ride.
We may have uncovered the root of my obsession with angsty redheads.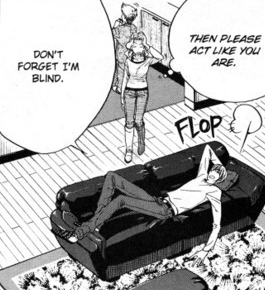 Iggy's portrayal in the film made me laaaaaaaugh.
The character would walk around making eye contact in most scenes. Every fourth scene or so, he'd bump into a countertop or something and say, "OOOF," to remind the audience of his blindness.
Do yourself a favor and watch the Maximum Ride movie on Netflix.
That movie is a gift we do not deserve.
IGNORANCE IS BLISS
A BOOK THAT IS BAD BUT YOU JUST DON'T WANT TO ADMIT IT
The "official" Time Magazine Sorting Hat Quiz talked mad smack about the Myers-Briggs Type Indicator.
They scorned a test I've been worshiping since 10th grade.
Their criticism has made me afraid to revisit Please Understand Me, the book I read for my senior project.
What if it's bad?
THERE IS NO TIME LIKE THE PRESENT
WHAT IS YOUR FAVOURITE CONTEMPORARY NOVEL?
Yep.
That's all I can say without crying.
BETTER SAFE THAN SORRY
A BOOK YOU DON'T WANT TO READ IN CASE IT'S BAD
I've seen tons of positive reviews for the trans love story in When the Moon Was Ours.
I don't want to risk it.
The last time I read you, Anna-Marie McLemore, the leads barely escaped acid rain and vicious needle stabbing.
I won't do that to myself again.