I'm a sucker for religious humor.
Would you believe I couldn't name all 12 disciples?
The Rob Evans "Donut Man" song "We're Following Jesus" only covers 9 of the 12.
To make this tag, I looked up a definitive list of the 12.
Only there isn't one.
Scholars disagree about who James really was. They dedicate entire websites to the "Philip: Thaddeus or Bartholomew?" debate.
And no one will tell me where "Nathaniel" went.
These discussions offend me.
We can't have an honest conversation about sexuality, but we can argue for hours about the "right" disciples?
CHRISTIANS. COME ON.
Back to the books: this is a non-denominational tag, no religion required. The prompts might have disciple names, but the real focus, as always, is books.
Please participate if you have an interest. Just pingback here.
Judas
A book that betrayed you
So many books for me to choose.
We mustn't forget the time Heidi Heilig made pirate literature boring.
I bought another pirate novel and put another on my TBR list.
Because of this book, I'm afraid to touch them.
James and John
An author with an aggressive worldview
Stephen King's presents his cynical worldview most clearly in The Green Mile.
Every time I read one of King's books, I get the sense that the world is awful, God doesn't care about us, and those we love leave us.
THANKS, STEPHEN.
Philip
A dark, cynical book
Check out this old-school, bargain copy of Game of Thrones.
I bought this for only 3.99 at Half-Priced Books.
Yes.
Too bad about the tone.
The whole series is this way: good guys die and righteous campaigns are thwarted. Kids get killed. Rapists live.
I could only handle that negativity for so long.
Thomas
A book you had doubts about
I thought this book looked dumb.
The cover reminded me of Curtis Sittenfeld's Prep and I didn't care for Sittenfeld. What if I hated this book?
I didn't. I laughed a lot and passed this on to my reading buddy.
It so accurately described the freshman experience.
I think the "love interest's" name is Ted? He's the worst, but also the best Penelope can do as a freshman.
Oh, college.
Peter
A book or series you kept changing your mind about
Read my dramatic review of Daughter of Smoke and Bone.
My emotions fluctuated with every page.
So good, though.
Simon the Zealot
A book with problematic representation
I FORGOT THE TITLE.
I TRIED, BUT I CAN'T FIND THIS BOOK ANYWHERE.
Here's what I remember:
The book featured a male main character, his snotty older sister, and his cousin the kid detective (who I THINK was female? I'm not sure.)
It was children's mystery published sometime between 1960 and 1990
Question: why are the narrators in mystery novels so often the friend of the detective? Wouldn't it be more interesting to read from the detective's point of view? Is this a Sherlock Holmes thing?
Early on, the sister kills a spider, making the cousin cry. "You killed him," she says, "I could hear him screaming."
They go to a fancy house with a Sikh butler (which I will come back to in a second)
In the climax, a parrot eats somebody's eyeball off the floor (this was a kid's book)
I laughed so hard while reading this book during class that my fourth-grade teacher sent me outside
So I DON'T KNOW WHAT THIS BOOK IS.
BUT…
I mentioned the house had a Sikh butler.
His presence prompts this conversation:
"Why are you wearing a turban?"
"I'm a Sikh."
"You're SICK?"
"No, Sikh is my religion."
Not a GREAT conversation. Remembering the main characters are sheltered white kids doesn't do much to lessen the cringe.
THEN, it is later revealed that the Sikh butler was really the villain…dressed in brownface.
You know, because villains like dressing as religious minorities for fun.
Matthew
A book you're embarrassed to be seen reading
I'm still ashamed to be seen reading romances.
Especially with people kissing on the cover.
Like, ugh, can you CHILL?
It's hard for me to read Just One Year in public without blocking the cover from others' view.
I MAY have pulled the "book inside another book" trick at work a couple times.
The cover just looks so stupid. WILLEM ISN'T EVEN A BRUNETTE.
Andrew
A book you read because it reminded you of a past favorite
I bought E. K. Johnston's That Inevitable Victorian Thing because I loved Exit Pursued by a Bear so much.
I tried to read this and wasn't able to get more than 40 pages in.
I keep seeing it on "Best of Queer Lit" lists. It gets called a bi masterpiece.
It's still on my shelf. I'd like to finish it before the year ends.
James the Less
A book you held off reading for years
I tried reading Thirteen at Dinner in junior high.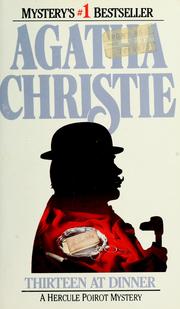 People kept telling me how great Agatha Christie was; I wanted to see for myself.
I couldn't get through it. I was so bored.
It took me more than a decade to pick up another Agatha Christie novel. I ended up finishing Thirteen at Dinner, realizing halfway through it was the same book I'd given up on as a teen.
Christie is fun. Her mysteries are kind of confusing and convoluted (Murder on the Orient Express is JUST the dumbest), but her books are short, the plots move quickly, and she writes well.
I love her Tommy and Tuppence books most.
Nathaniel and Thaddeus
A book you love that no one remembers
A couple of my classmates read Julie Anne Peters' books in junior high, but I'm the only one who read Far From Xanadu (later retitled Pretend You Love Me.)
A redhead with a cowboy hat? Uh, SOLD.
I read Kissing Kate first, a book about a gay girl pining for her straight(ish) best friend, but I wasn't a fan.
Far From Xanadu has a similar plot. As sad as it was, I loved the book. I added it to my list of favorite books and then forgot about it.
I'm fairly certain I'm the only person who has ever read this book.
Now I want a copy.
Stephen
A standalone book you wish had a sequel
Oooh…be careful what you wish for.
I prayed for a Once Upon a Marigold sequel and got one…and regretted that wish for the rest of my life.
I think I need a Heartless sequel.
It can be pre-Alice or post-Alice. I want a happy ending for Cath. PLEASE. GIVE ME HOPE.