It's Sunday and I'm headed to church.
I wanted to stay on theme.
(Sort of? My church views sin differently than other churches. Don't get me started.)
Thanks Berries and Books for your great post on the topic.
Greed
What is the most expensive book you own?
I received a beautiful coffee table book about Spotco for my birthday last year.
Coffee table books don't come cheap.
Gluttony
What book have you shamelessly devoured many times?
Of my newer books, Someday, Someday, Maybe and Would You Rather? are tied for Most Rereads in a single year.
Both involve New York, a single heroine, the creative field, and romance.
I need that combination of elements to feel whole.
Sloth
What book or series have you neglected out of sheer laziness?
I meant to reread The Scarlet Pimpernel but never did.
Diana Peterfreund wrote a sci-fi retelling of The Scarlet Pimpernel.
What if I read that INSTEAD?
Pride
What books do you bring up when you want to sound
like an intelligent reader?
I quote my research hero Adam Grant ALL THE TIME.
I say, "Actually, they did this study about leadership…" without defining who "they" is.
I also like throwing Freakonomics and Outliers into conversation.
"Did you know hockey is ageist? Malcolm Gladwell said!"
Lust
What attributes do you find most attractive in characters?
Red hair, anger, and sass.
Those elements don't guarantee attraction, though; stupidity can still ruin the party.
Looking at you, Ron Weasley.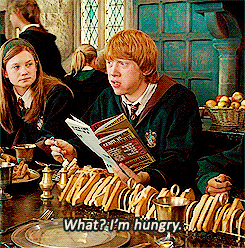 Envy
What books would you most like to receive as a gift?
I have to narrow it down.
I love the art in Night of Cake and Puppets. I've been putting off this companion novel until I finish the trilogy. If I could have it just for the art, that would be swell.
Another blogger raved about Girls of Paper Fire. Of course I'm drawn in by the beautiful cover. It COULD NOT BE HELPED.
I would like a Harry Potter set of my very own, preferably in paperback.
I've never read anything by Victoria Schwab, but I would gladly take any one of her books.
Lucy Knisley's Kid Gloves comes out in February. I cannot wait.
Wrath
Which authors do you have a love/hate relationship with?
I don't understand Maureen Johnson.
I read and loved The Bermudez Triangle in high school, even though the book ended differently than I wanted.
I thought that book was lovely and thoughtful and respectful of its LGBTQ characters.
How is it I hate almost every other book Maureen Johnson has written?
And, trust me, I've read them all.
I saw her new book on a "Most Hyped" list and scoffed. People don't actually still read Maureen Johnson, do they?
I guess they do…and I don't get why.
Thirteen Little Blue Envelopes? Suite Scarlett? The Name of the Star?
That last one is laughably bad – Jack the Ripper comes back as an immortal ghost to finish his killing spree.
In other words…IT WAS A DEMON.
I've already picked on J. K. Rowling, so I'll switch to Libba Bray.
I never know what to make of her books.
I both loved and hated the Gemma Doyle trilogy. From there, Bray wrote a wacky road trip adventure I hated, several novels I wasn't interested in, and a terrifying short story.
Even when I hated her most, I knew Bray could write.
Then The Diviners happened.
I'll name one more, then I'll stop:
Hey, Stephen King.
Some of your advice is great…but I'd also like it if you calmed down.
You're kind of…rigid.
I'm glad you've found success, but there's more than one way to be a writer.
Just ask your wife.
You, too, can complain about book prices and the authors in your life. I tag you all.