"Spooky, Scary Skeletons" is my favorite seasonal song.
I listen to it on repeat.
Imagine my excitement when I found a spooky, scary book tag.
WHAT.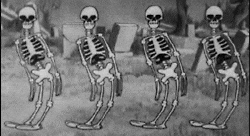 This is a blessing. I have been blessed.
What goes bump in the night?
Name a book that has legitimately scared you while reading it
Quick tip: If you have an abusive background, avoid this thriller.
I didn't expect much from this book.
The ex-wife was crazy, the new wife innocent. Typical thriller stuff.
The first plot twist hit about halfway through.
After that, I had to know what happened.
Parts of this book were hard for me to read.
I was angry and horrified in equal measure.
But I was also afraid for the characters.
Very, very afraid.
And the twists kept coming.
Jack O' Lanterns and Classic Costumes:
A book you always reach for during Halloween time
I'm set to mention The Scorpio Races at least TWICE MORE this season.
I just picked it up again and it is PERFECT.
After this book, I restart The Raven Cycle. The first book opens in a graveyard.
OooOOooOOoOooOoooh.
Black Cats and Magic Mirrors
A book you love that is laced with superstition and/or magic
I'm struggling not to say The Raven Boys.
Even though it would be PERFECT.
Ooooh, the first book listed on Goodreads under "Popular Superstition Books" was The Tiger's Wife!
I haven't mentioned this book in at LEAST a month!
The locals in that book were PLENTY superstitious.
As for magic, HOW ELSE WOULD ONE EXPLAIN THE DEATHLESS MAN?
Witch's Brew
Favorite witch character in any book/series
I prefer magical creatures to humans with magical abilities.
…most of the time.
Because "witch" implies "female" (meaning I can't choose Harry Potter), Elphaba wins by default.
I liked Wicked well enough.
And that was the last time I ever read a witch book.
Ghouls and Ghosts:
A book that still haunts you to this day (good or bad)
(Spoilers for the following and a trigger warning for sexual assault.)
Riley's assault in the climax was awful to read.
The end of the book lists anti-trans violence statistics.
The numbers are ABSURDLY high.
Trans Lifeline and The Trevor Project offer resources to trans and gender non-binary people who need help.
Please please please support them if you can.
Offer hope to those who hurt.
Haunted Graveyard:
You're all alone in a haunted graveyard, you get ONE book to give you
comfort. Which is it?
Congrats, Jane Eyre. You've been upgraded to a comfort read.
Holding a flexibound book soothes me.
And my burning rage toward Brocklehurst and Helen will keep me warm all through the night.
The Undead:
Favorite supernatural creatures to read about (i.e. vampires, zombies, werewolves, etc)
Soooo…
…I like unicorns best.
Any type of magical, powerful equine, really.
Especially the murderous kind.
Werewolves/regular wolves are my other favorite.
Also, shapeshifters. Those tend to cover a lot of bases.
In the dead of night:
Pick a book with a black cover
Uuuuuuuhhhhhh…
DID ANYONE ELSE KNOW THIS WAS A BOOK?
I must read it.