I don't keep track of the books I read.
I dumped most of the books I read this year out of my memory – if I liked them, I added them to my bookshelf.
I came up with some superlatives to help me remember both good and bad experiences over the last nine months.
Here are the arbitrary awards I decided on for the books I can recall.
Best New Series
Daughter of Smoke and Bone trilogy by Laini Taylor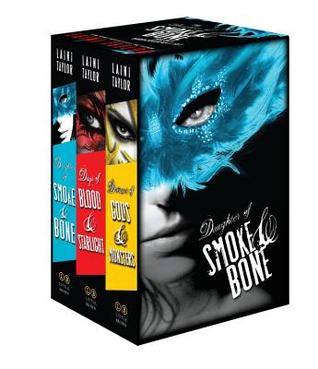 I haven't read the last one, so this trilogy could still be ruined for me.
But at a time when I had no hope, these books cheered me up. Dare I say they got me back into fantasy. I HAVE RETURNED.
Most Underwhelming Series
The Diviners series by Libba Bray
I heard tale of a fascinating, diverse series with cArAzY twists and turns! All other reviewers said they sobbed or fainted or squealed their way through these books.
Maybe the rest of this series is fantastic, but I can't believe that after slogging through the first book.
I don't understand all the excitement – I've read plenty of books like The Diviners. The first book offered nothing new and featured, dare I say, TOO much romance? Oh, and I wanted to tear the plucky heroine's eyes out.
Best Debut
Chemistry by Weike Wang
I saw this in paperback on my annual Powell's trip and threw it in my basket. "OUT OF MY WAY, TOURISTS, THIS ONE'S MINE!"
I'd been waiting on this book since its hardback release in 2017.
It was worth it.
I loved the thoughtful examination of depression and failure. Progress is a myth and science is terrible. That's the moral, right? Did I get that right?
Most Underwhelming Debut
Children of Blood and Bone by Tomi Adeyemi
I liked this book, but I didn't finish it.
The plot bears so many similarities to Avatar: The Last Airbender that I felt I knew what was going to happen. That's when I lost interest.
Reviewers gave an A or A-plus to a story that was more of a B or B-minus. They called this book  a "phenomenon."
This book is fine, well-written even, but not the phenomenon I was promised.
Most Overhyped
The Miseducation of Cameron Post by Emily M. Danforth
Again, fine, but not life-changing.
The lesson here, I guess, is should I stop trusting reviews.
Jesus is Better Than You Imagined by Jonathan Merritt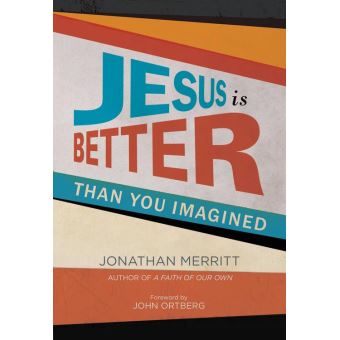 I really loved Merritt's admissions about his sexuality (did a Christian author just used the word "fluid" in a book about Jesus!?) and the variety of ways he believes we can experience God.
My favorite passage had to do with the motivation behind sacrilege: many who criticize the faith are reacting to religious hypocrisy, something Jesus also hated. Viewing sacrilege as a point of connection makes for more honest, compassionate relationships. I loved the image of Jesus eating a hot dog at Sister Louisa's Church of the Living Room and Ping-Pong. Jesus is cooler than we imagined.
Like a Mother by Angela Garbes
I have not stopped talking about this book since I read it.
I almost told a woman buying this book at Elliot Bay, "I LOVED THAT BOOK! YOU'RE MAKING THE RIGHT CHOICE!"
I feel so much more informed about pregnancy. This book dispensed with the flowery imagery I've heard used in the church, where pregnancy (for many) is a much-desired, much-lauded accomplishment.
I've been looking for acknowledgment that this natural miracle is not without pain.
I came out of this reading experience horrified and nauseous (my mom received some really disturbing texts about miscarriages and organ displacement), but I'm better now. I faced the beast; I know my body.
Favorite New Author
Becky Albertalli
My expectations were low and these books were cheap.
I'd heard the hype and seen the film and adjusted my expectations accordingly.
Damn, Albertalli can actually WRITE.
Dare I say I loved anxious, perpetually-single, DC resident Molly even MORE than Oreo-loving geek boy Simon.
Molly's giant queer family warmed my little heart. I dig it.
Best Follow-Up
Would You Rather? by Katie Heaney
I sometimes purchase books without checking who wrote them.
I learned last night that I brought a Pam Muñoz Ryan book into my house without realizing it.
At Powell's, I picked up the above book in the New Memoirs section and read the whole synopsis before catching the author's name.
Wait…Katie Heaney came out as GAY!?
Of course, when I learned that, I had to have this book.
This book would also win Most Rereads of 2018 (sorry, Best Party of Our Lives); I can't stop returning to Heaney's city experiences.
She met the right person and is making that relationship work. That gives me hope.
Most Anticipated New Read
Heretics Anonymous by Katie Henry
I CANNOT WAIT for this book.
Not too long ago, I read Nadia Bolz-Weber's Pastrix: The Cranky, Beautiful Faith of a Sinner and a Saint. The church I know acts as a haven for only the saints, creating a bubble where the godly can escape culture and wait for heaven to come down.
The church Bolz-Weber describes contains messy, complicated people still working through issues. Not everyone believes the right things or memorizes the right Scripture passages, but love is shown to all.
Katie Henry's debut involves a church of misfits: an atheist, an aspiring feminist priest, a gay Jewish boy, a gender non-binary pal, and a pagan. They gather to commiserate and cause a ruckus.
Sorry, gang – THAT'S what church is SUPPOSED to be.
Dark Horse Favorite
Ship It by Britta Lundin
In the spring of 2018, Powell's displayed new book Ship It in every corner of the store.
"It's not ACTUALLY about shipping, though," I reasoned.
I pulled the book down and read the front cover. It was.
I feared being put off by repeated references to "fandom culture." I reacted poorly when Lundin gave actor Forest his own POV chapter.
BUT THEN I LOVED THE BOOK AFTER ALL.
I recommend this often. I know plenty of people who would enjoy it. Despite all my misgivings, Ship It was a fun read.
Best Impulse Buy
Lunch in Paris by Elizabeth Bard
2018 was the Year of the Memoir for me.
At Powell's, I'd already settled on a decent number of books. On my way to the checkout line, I saw this book on the bargain table.
A memoir…with recipes? DAMN, that's creative.
And the book was only $8.00; if I didn't like it, at least I hadn't blown my budget on it (LOOKING AT YOU, GIRL IN THE STEEL CORSET.)
I liked this book! A lot!
I mean, I never want to move to a foreign country now or eat French food, but I liked this book all the same!
And I now have a recipe for profiteroles!
Most Frustrating Read
Becoming Nicole by Amy Ellis Nutt
Did you know Amy Ellis Nutt won a Pulitzer?
You wouldn't know it from reading this book.
I had SUCH HIGH HOPES, but the writing is absolute garbage.
Nutt goes hard on folksy moralism. I, like other readers, expected more of a journalistic approach.
Nutt tries to straddle the line between professional and personal and does a poor job.
Nicole Maines has led an interesting life. She's set to play TV's first trans superhero.
She and her family deserved a better retelling of their history.
Unlikely-yet-enjoyable Read
Hild by Nicola Griffith
I only lasted 100 pages.
But don't let my weakness stop you!
I loved being immersed in medieval history, for however brief a time.
Griffith writes her characters well, implying the hell out of things with a deftness I envy.
Hild has been called "one of the best novels ever." Do it. Read it.
Best Thing to Happen to My Collection
I GOT NEW BOOKSHELVES!
I've been lugging the same waist-high three-shelf monstrosity around since college. It held less than a third of the books I brought with me to Seattle.
Well, my mom bought me NEW SHELVES.
They're about 5 feet tall with espresso wood and cubes for storage. AND I HAVE TWO OF THEM. ALL MY BOOKS ARE OFF THE FLOOR. IT'S A MIRACLE.
I'll do a bookshelf tour one of these days. I just organized my books by genre – NOW I CAN FIND THINGS. ALL HAIL ORGANIZATION!