I was going to finish 2018 with my retrospective, but um…
…well, Kristin did a great end-of-the-year tag on Kristin Kraves Books.
I'm having a hard time remembering all the books I read this year, but I'll root around in my memory for appropriate answers.
Best Book You Read in 2018?
Wow, the fact that I'm having a hard time choosing is a good sign.
I don't want to overlook anyone.
But the best – the BEST – book I read this year is one I've mentioned a million times already.
I KEEP REREADING IT.
It's good.
Trust.
Book you were excited about and thought
you were going to love more but didn't?
Should I stop reading f/f fantasy? I've been disappointed by it more than a few times.
Anyway.
I thought I would love Girls of Paper and Fire, keeping its gorgeous rainbow cover on my shelves until the world's end.
Perhaps I set my expectations a bit high.
I really liked this book, but I didn't like like it.
Most Surprising (in a good or bad way) book you read?
I planned FOR A WEEK how to spend my Christmas money (plus a $20 off coupon) at my beloved Elliot Bay Books.
You know…plans change.
I wanted to buy as many cheap YA paperbacks as possible.
Instead, I browsed the graphic novel section.
When I saw this book, I was surprised by how much I wanted it.
Before this year, I wouldn't have purchased a book called Comics for Choice.
Bought it. Read it. Loved it.
I didn't expect to be moved.
It was on par with 2016's spectacular anthology comic Love is Love.
Book You Pushed People to Read the Most?
I could name several books I WANTED people to read, but, in all honesty…
…I told people to read Carry On the way I always do.
Though I repped my favorite book The Scorpio Races on this blog MANY times, I went out of my way to tell strangers on the internet about my love for Carry On.
On this blog, I believe I mentioned Carry On at least 10 times, if not more.
By the way, have you read Carry On yet?
Best Series You Read in 2018?
I've mentioned this series too many times because it's great…and one of the ONLY series I read all year.
I used to be a series reader; now I prefer standalones.
Anyway, it's the Daughter of Smoke and Bone trilogy, even though I haven't finished it, Laini Taylor is fabulous, I have the companion novel, etc.
Favorite New Author You Discovered in 2018?
So I'm going to cheeeeeeeeeat and pick my top 3 new favorites.
Katie Henry wrote a FABULOUS YA novel, Heretics Anonymous, filled with sincere feminist theology.
Angela Garbes demystified pregnancy in my new favorite pink book, Like a Mother.
Britta Lundin broke my stupid heart with her YA debut Ship It.
…OKAY, I LIED, ONE MORE.
Dr. Willie Parker penned a compassionate pro-choice tome titled Life's Work that consistently affirms the value of women.
Best Book From a Genre You Don't Typically Read?
Surely there's a historical fiction book I picked up this year…
Or, like…a travelogue?
Hey, I haven't read a self-help book in a while!
I used to read self-help ALL THE TIME because I craved guidance.
I've cooled on that particular trend.
I did read Gretchen Rubin's The Happiness Project and took away a ton of great ideas.
Though I'd full-on rebelled by the end of my personal Happiness Project, the initial structure helped me meet some personal goals!
Favorite Cover of a Book You Read in 2018?
I'm sorry things didn't work out between us.
I think of you as a dear friend.
Most Memorable Character of 2018?
That durn Molly Peskin-Suso tugged at my cold heart.
I healed from years-worth of body image issues, anxiety, and fear of rejection through Molly's experiences.
Book That Shocked You the Most?
YOU MEAN I CAN FINALLY USE LIKE A MOTHER FOR A PROMPT?
This book is grooooooooooss.
The human body is amazing and whatnot, but I'm as squeamish as ever…now with a fortified aversion to pregnancy!
Because my mom was a childbirth educator, I thought I knew more than most about pregnancy and childbirth.
I learned I didn't know ANYTHING before this year, especially with regards to miscarriages.
Also, I learned what prolapse is, which I regret.
Book That Made You Cry/Almost Cry?
There's a book on my End of the Year pile that I WANT to put, but I haven't finished it yet.
Practically every book I read this year made me cry.
I would like to give special attention to The Very Worst Missionary, Searching for Sunday, and Ship It.
Faith and media representation, it seems, stimulate my tear glands.
Oh, hey, honorable mention goes to The Scorpio Races because I WILL NOT STOP MENTIONING IT.
Sequel You're Most Anticipating in 2019?
Wayward Son is set for release next year and I CAN'T HANDLE IT.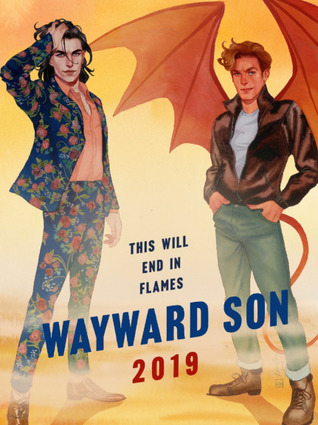 I need a new book to push on people.
Book You're Most Anticipating in 2019?
Hands down, it's These Witches Don't Burn.
The Best Friend might be the cutest human being I've ever seen in my life.
Aaaaand…that's a wrap!
I HAVE to start getting to work on time.