For round 1, I picked:
Daine Sarrasri from the Tortall Universe
and
Alexander Hamilton from Hamilton
Background
Daine Sarrasri, the lame follow-up protagonist to Alanna of Trebond, almost made me swear off fantasy. Daine represents everything I hate in female characters: she has the power to talk to animals, but is too incompetent to be of much use. She's so pure and shy that the plot practically glosses over her. The Strong Female Character trope rose as a reaction to characters like Daine. Shyness, femininity, and empathy don't have to result in bland, weak, useless characters, yet HERE WE ARE.
You either love or hate Alexander Hamilton, the fast-talking immigrant from Lin-Manuel Miranda's magnum opus. He outwits British armies! He fights political corruption! He stands up for his ideals! He cheats on his wife! A bunch! Enough times that his murder at the hands of Aaron Burr comes as a relief!
The Couple
All arguments about his complexity aside, Alexander makes a TERRIBLE husband. He picks work over his wife every time, flirting with his sister-in-law through letters meanwhile.
Gross.
Let's say both Schuyler sisters are out of the picture. Would this arrogant founding father enjoy being eclipsed by a woman who has supernatural abilities?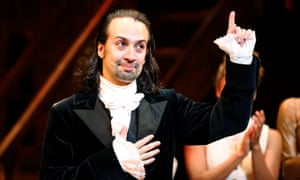 "I'm a wizard with the press!"
"I'm a literal wizard."
"I defeated the British armies with my tactical brilliance!"
"I deposed a king by storming his castle with an army of zombie dinosaurs."
While Daine isn't the one-upping type, no way would Alexander be cool with sharing the spotlight.
As much as I hate Daine, she deserves better.
Verdict: R.I.P. IT