NOT ME POSTING A TOP TEN TUESDAY ON TIME FOR ONCE.
Best of all, today's topic is FICTIONAL CRUSHES.
My name is Lauren and I have a Type.
Hades from Greek mythology
I still secretly want to be goth; crushing on the god of the Underworld seems like a decent way to achieve that.
The Hades/Persephones myth and its many retellings are a study in contrasts. I love the themes, the aesthetics, and the way many authors have used the story to explore consent.
My current favorite version of Hades is from Neon Gods by Katee Robert.
We first find Hades standing on a foggy bridge wearing a dark coat.
Cut to me screaming with glee.
Simon from Well Met
Oh nooooo, the high school English teacher cosplays as a sexy pirate, I'm dyinnnnng.
I can't talk about this character without blushing.
SEXY PIRATE WITH SELF-ESTEEM ISSUES. GET INTO IT.
Kylo Ren from Star Wars
I've made my love for Kylo clear over the years.
Yes, he's a villain with anger issues.
When I said I had a type, this is it.
I really like it when characters have the potential to be better than they think they are. That moves me.
Kylo deserved more.
OH, BY THE BY, SOME WIZARD ON THE INTERNET CREATED REYLO-AS-HADES-AND-PERSEPHONE CROSSOVER ART (found here.) SEND HELP.
Aragorn from The Lord of the Rings
Aragorn opened the doors at Helm's Deep and I still haven't recovered.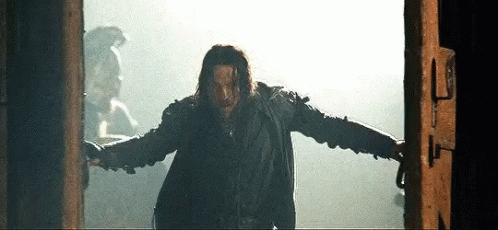 Movie Aragorn is my ideal man, dirt and all.
He's so tender with the people he loves. I can't bear it.
God, and when he smiles? It's too wonderful for me.
Prince Bárány Gáspár from The Wolf and the Woodsman
I can't stop thinking of a review I saw on Goodreads that put it perfectly: Gáspár was BROUGHT TO HIS KNEES by love.
I love that Gáspár is both honorable and flawed in a way that doesn't turn him into a Ned Stark.
Unlike Ned, Gáspár balances honor and survival.
He tries to deflect his brother and protect his love and it's BEAUTIFUL TO WATCH.
Kravitz from The Adventure Zone
Kravitz: literal Death and also a tender boyfriend.
He broke the rules to keep Taako safe!
They do pottery together??
I CAN'T HANDLE IT.
Murtagh from Eragon
FUN STORY: I realized that every love interest I've ever written is modeled off of Murtagh.
I saw Eragon when I was 14 and have been lusting after Murtagh ever since.
HE'S SO HANDSOME, I CAN'T STAND IT.
HE'S ANGSTY AND INTERESTING. I WOULD REREAD THIS SERIES AGAIN JUST FOR HIM.
I wish there had been a sequel so I could see more of this man's beautiful face.
Sebastian from Stardew Valley
LISTEN. I STILL HAVE FEELINGS FOR SHANE.
IT'S JUST…
…SEBASTIAN IS SO KIND.
He started taking care of sick frogs in our home!
He makes me feel appreciated!
I can't believe I learned about healthy relationships from STARDEW VALLEY. Thanks for nothing, therapy.
Heimdall from the Thor movies
Heimdall treats Brooding like his job…because it is.
He's in charge of watching all possible worlds or something (I wasn't paying a ton of attention; I was too lost in Heimdall's eyes.)
Marvel decided to kill off Heimdall because we can't have nice things, I guess.
Grantaire from Les Miserables
The ABC boys in Les Mis are identical vest-wearing idealists. Grantaire stands out as a bitter, sloppy drunk.
I listened to the Les Mis soundtrack as a teen and fell hard for the sad boy who mocks Marius.
In short, Grantaire is the reason for my giant crush on Shane from Stardew Valley.
Learning about the Grantaire/Enjolras ship has genuinely changed my life for the better.
The YEARNING. The EMOTIONS.
Joseph Spieldenner's take on the character is my favorite. That's all. That's all I want to say.
Just kidding, one more thing: Spieldenner married his costar Jason Forbach, who played Enjolras.
LOVE IS REAL.
Those are my current crushes.
Just realized I forgot to include Hela and Loki.
A travesty.
I could easily make a part two of this post, but I'll refrain…
…for now.