Well…merry official Christmas.
This is the last of the Christmas tags.
I found this It Starts at Midnight with custom graphics provided by the creator.
God bless us every one.
Did y'all know this was a book? I wouldn't have put "Christmas" and "Tolkien" in the same sentence.
I'm a little salty about Tolkien's unofficial sainthood, but THIS IS A HOLIDAY OF PEACE AND LIGHT, SO I'M WASHING THE BAD FEELINGS AWAY WITH EGGNOG AND COFFEE.
So far, I've only chosen books I've never read.
I don't think I've driven in…two years?
Someone take my license away. I'm not using it.

I'll save "Mr Brightside" in the event I need to pitch a New Adult book to some publishing execs.
My first thought was "Dustland Fairytale."
THIS MUSIC VIDEO is one of my all-time favorites.
I get a Nick Burd vibe from the melody. I would put up with a '50s setting to read a tragic story like this.
I'm just now grasping the rarity of this trait in contemporary fiction.
In at least one of Randa Abdel-Fattah's books (it might not be this one), the protagonist rejects the love interest to stay true to her religion.
I have conflicted feelings about this.
Especially since they went with the false argument that relationships inevitably involve sex, so it's best not to participate.
And the love interest argued that it's better to make mistakes and have experiences that inevitably involve sex just so you've "lived a full life."
Just…just…
PEACE AND LIGHT, FOLKS. I don't want to get into this today.

I forgot about Keladry's menagerie.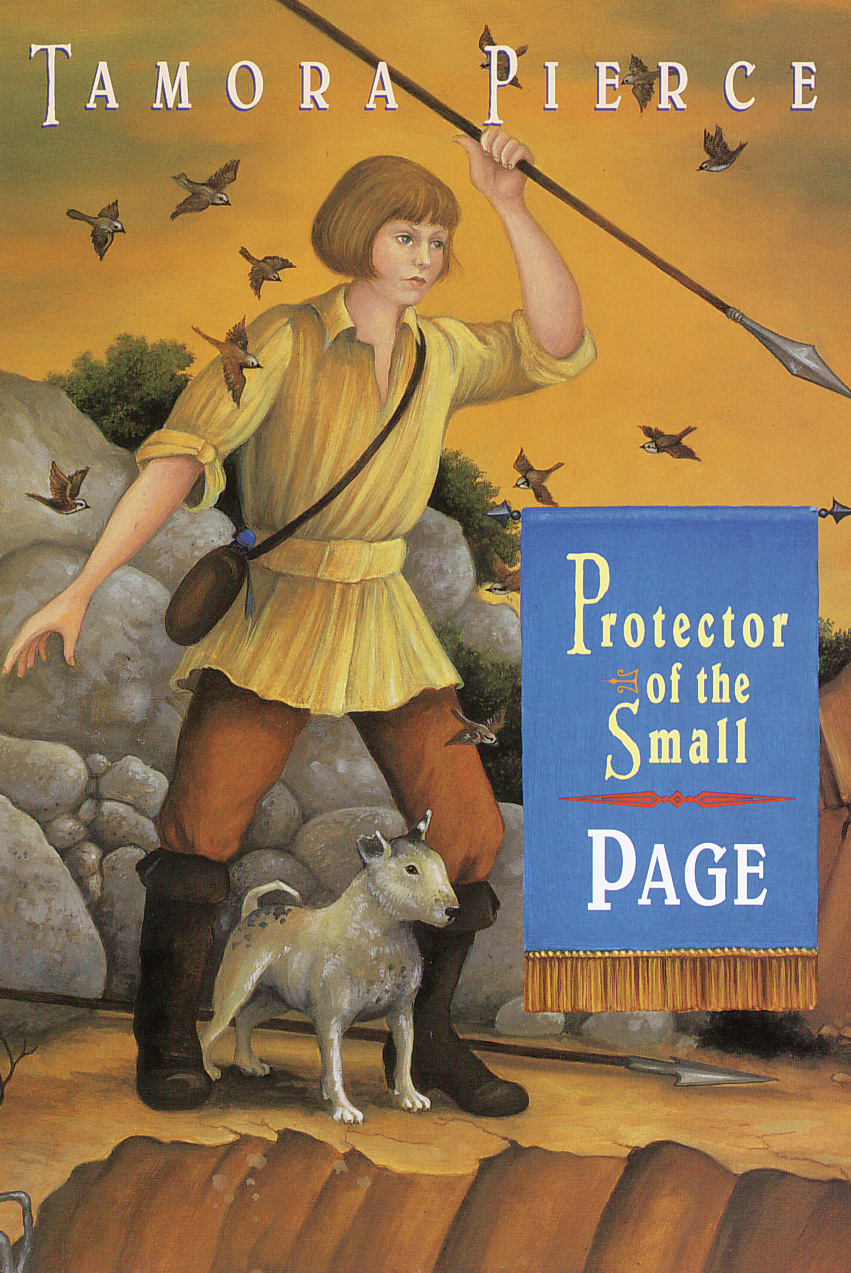 I forgot about Jump the dog!
I know he was ugly, and possibly also half-blind? It's been a while.
And…I believe he survives the series. Because NO ONE DIED in the last book.
Maybe some sparrows, but WHO EVEN CARES about birds.
It's in the title.
I finally saw this book in person. I could have checked it out, but I'm not interested in reading it.
I did the vampire craze of the mid-2000s. Strike vampires from the list of creatures that interest me.
Thanks to my fantasy overdose as a teenager, it's a pretty short list.
This book meets both requirements.
I hear there's some spoiler-y nonsense about a lost princess (my ship is ruined, I'm not finishing the series.)
Aside from Lost Princess, there's Prince Dorian (who I HATED.)
Now the wiki is telling me there's some spoiler-y nonsense regarding HIS character.
I've just about had it with you, Sarah J. Maas.
I haven't read this one either.
Somehow, seeing the words "Giant Thrift" on a beige paperback does nothing to stir my interest.
My fifth-grade class read SO MANY SAD BOOKS.
WHO WROTE THE CURRICULUM?
The graphic dismemberment of Old Dan was bad enough. (His intestines fall out and LAND IN THE BUSHES.)
Then he died and LITTLE ANN DIDN'T WANT TO LIVE ANYMORE.
This book was the WORST.
I tried reading this for Spiritual Health Month.
I learned at the end of the introduction that the book would forgo discussion of the enneagram to focus on its philosophical implications.
Nope. I can't go for that. No can do.
In truth, I hate Christmas movies.
I'll watch a Marvel movie before I consume a film intended for the holiday season.
HOWEVER…
What do you say to a high-school romance set at Christmastime where the girl sends her crush love notes and unwittingly humiliates herself by posing in a photo shoot?
This is my favorite Princess Diaries book, so someone write a script and film this.
This is some silly, silly nonsense…
Listen. Listen. Hear me out.
I'm fascinated by Jack the Ripper, I like historical mysteries, and ripping through a trashy paperback in a day motivates me to read more.
PLEASE BUY ME ALL THE TRASH.
Marry Christmas once again. I want too many books, but my BIRTHDAY is not too far away!
HUZZAH!