When it comes to books, I am a cheapskate.
In this area of my life, I value quantity over quality, blowing my budget on thrifty, vaguely-interesting paperbacks rather than the one or two pricey hardbacks I really want. Why bother when I'm going to switch them out for cheaper, less bulky, better-looking copies in six months?
If I feel I can't live without a book, I'll splurge. Sometimes I'm too impatient to wait for the paperback release; other times I buy on impulse, swayed by a perfect plot summary or a pretty cover.
When these books disappoint, it's agony. It feels as bad as a breakup; all that effort and emotional energy for nothing. WE COULD HAVE SOMETHING BEAUTIFUL, AND YOU RUINED IT.
Though this isn't a complete list of past offenders, be warned: these books broke my heart.
Rebel of the Sands by Alwyn Hamilton
The fact that I talked this book up to my friends before I read it makes the the memory of this purchase especially embarrassing.
I bought what sounded like a female-led remake of "A Horse and His Boy" with foreign fugitives, fleshed-out romance, magical mounts, and GUNSLINGERS. Make no mistake: throw ANY of those elements in a book and I'll whip out my debit card. Add all four and you find me saying things like, "I feel like this book was written for me!" to my skeptical friends.
As always, the cover played a big part in my decision. In my heart of hearts, I prefer pretty books. And LOOK AT THIS THING.
(Author's note: Free punch in the face to anyone who smugly comments, "That's why they say, 'Don't judge a book by its cover!'" No one wants to read a $2.00 copy of Pride and Prejudice; Barnes and Nobles makes special editions for a reason.)
I gave up after 80 pages. I didn't even make it to the horse. (I don't think. See? I CAN'T EVEN REMEMBER.)
I didn't enjoy the world or the characters, and I DEFINITELY didn't appreciate the rushed romance with a heavy helping of denial.
A year later, I saw this book on Barnes and Nobles overstock table for $6. No one should have to pay that much for this letdown.
The Star-Touched Queen by Roshani Chokshi
I find it harder and harder to like YA romances.
I had a heartbreaking moment the other day when I realized one of my all-time favorite ships isn't healthy. I've become a more moderate shipper and I don't like how it feels.
All that to say I hated the romance in this book.
The protagonist ends up married to a mysterious man who claims they were a couple in a past life. Whenever she asks for details, he says, "Just trust me." RED FLAG #1.
The guy gets way too intimate way too fast and repeats the same justification: "No, we used to be in love! Trust me! I'm not a bad guy!" RED FLAG #2.
Nothing he did showed care for the protagonist. She spent the bulk of the novel confused, avoiding his touch and flowery sentiments. Yet he never apologized or agreed to take it slow. He practically begged her to sleep with him with the argument that he can't help it – he loves her too much. RED FLAG #3.
Halfway in, I decided he was really the villain. The narrative purposefully muddied the waters, casting this creepo in a suspicious light.
I wish the author had followed through.
Listen, love interests: The best justifications and purest feelings don't excuse overwhelming your partner. If she feels uncomfortable or confused, BACK OFF.
The creepy persistence paired with self-centered reasoning turned me off this series.
I won't be picking up a sequel, no matter how pretty the cover.
As You Wish by Chelsea Sedoti
Fine, let's get this cover out of the way: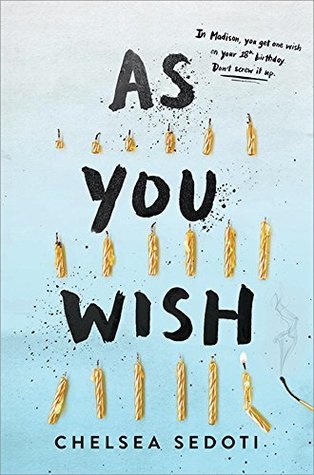 Not only is the cover WONDERFUL, this book was released around my birthday; looking at it felt like a celebration.
I loved Chelsea Sedoti's first novel, the deeply-weird-yet-emotionally-affecting The Hundred Lies of Lizzie Lovett. When I heard she'd written a follow-up, I was immediately on board.
I have nothing good to say about this book. I read it while on vacation and found myself becoming more and more disillusioned.
Compared to Hawthorn Creely from Lizzie Lovett, this protagonist had nothing going for him. I can't even remember his name. Connor, maybe? I don't often notice when authors write from an opposite-sex POV, but Sedoti's writing of Connor felt particularly self-conscious, i.e., "Yo, I'm a dude, this is how dudes think."
If I had to sum up the plot, it would be "Brainwashed town keeps magical secret on orders from power-mad mayor and everyone learns a lesson at the end."
That sounds more like a TV episode I've seen 1000 times than a compelling idea for a novel.
This concept had so many possibilities and Sedoti chose to tell a standard fable. Too bad.
All These Things I've Done by Gabrielle Zevin
I haven't thrown enough shade at this novel.
I love alternate histories. I find speculative fiction fascinating because it examines extremes. I don't remember the exact plot of this book, but I remember the ban on caffeine being part of a religious revival. The ban results in a new Prohibition era with Mafia members smuggling chocolate and opening coffee shops around the city.
Also, a girl becomes a crime boss, which is in no way a power fantasy of mine.
The first third of this book was solid, with a great set-up, interesting characters, and the promise of romance.
I hate, hate, HATE when an author rushes a potential romance. The star-crossed, slow-burn sexual tension ramped up to true love way too early, shunting aside the more interesting crime plot.
AUTHORS! Stop using your plots as elaborate vehicles for more typical fare! ENOUGH WITH THE FALSE ADVERTISING.
I wouldn't have been bothered if this had a been a romance/crime combo. Had both parts been equal, I could have maintained my interest. But the crime plot became an afterthought, the stakes plummeted, and the leads wasted their time on dramatics.
In an extra disappointing twist, I love (er, loved) Gabrielle Zevin's work. In the past, she's delivered high concept character studies. I took her name on the cover as a sign of quality.
This is why I have trust issues.
The Night Circus by Erin Morgenstern
Get out of here with your stupid cover and your stupid circus, you worthless, worthless book.
Of all the books on this list, this one makes the angriest.
I love the hell out of magical realism, okay? Magic and romance and circuses and book covers inspired by The White Stripes are my favorite things.
I saw this book everywhere for TWO. YEARS.
Every time I went to Target, I glimpsed it on the shelf.
Every time I turned around, it had won another award.
Every encounter increased my desire to read it.
Finally, I got it.
And…nothing happened.
I felt…nothing.
NOTHING.
LIKE MORALES IN HER ACTING CLASS.
I WAS SUPPOSED TO BE MOVED BY THE CHARACTERS AND INVESTED IN THEIR LOVE BUT ALL I FELT WAS EMPTINESS AND RAGE.
IT REALLY MADE ME BURN.
My low-level annoyance didn't escalate to blinding anger until the climax.
First of all, I COULD NOT understand what was going on. It felt like hearing a bomb go off without being sure it was a bomb. The other characters kept reacting as if to tragedy without ever revealing what had happened. I felt panicked, scouring for clues and not finding any. Something big had happened in the climax; I just didn't know what or why or how.
Then one of the characters, a creepy redheaded child (let's call him Pickle), sat down and preached the theme of the novel to me. Nothing Pickle described matched the events I'd witnessed. WERE WE READING THE SAME BOOK, PICKLE?
(I want to say this is the moment I turned against ensemble casts.)
AND YOU, ERIN MORGENSTERN: YOU DON'T JUST PICK A THEME OUT OF THE BLUE. YOUR ENDING HAS TO MATCH WHAT CAME BEFORE.
I remember throwing this book across the room during Thanksgiving dinner.
Forget this book. Forget the glowing reviews. Forget its best-seller status. I curse this story and all its success. MAY YOU NEVER KNOW TRUE LOVE OR FRIENDSHIP.
To be continued…