Read part 1 here.
I have yet more literary disappointments to unearth.
Thankfully, queer literature has never let me down.
HAHAHAHAHA just kidding.
Ash by Malinda Lo
I'm using Ash to represent all of Malinda Lo's books.
Malinda Lo writes excellent nonfiction; I keep entire anthologies for her essays alone.
Her fiction is just so boring.
This book appealed to my love of retold fairy tales and came out right as my interest in queer literature began. Imagine a magical, gay Cinderella who falls for the king's huntress.
Right? Sounds awesome.
It's not.
I just reviewed the plot summary on Lo's website – apparently there was an evil fairy in this and I COMPLETELY FORGOT.
Nothing about this story felt urgent or exciting. What could have been a fresh take on the Cinderella tale came off as dry and lifeless as ash.
Of Fire and Stars by Audrey Coulthurst
I am often, though not always, swayed by aesthetics.
If I'm going to buy a book, I need an eyecatching cover and an interesting cover blurb.
As soon as I read this book's plot synopsis, I had to have it. You couldn't have engineered a more perfect story for me: princesses, queer romance, elemental magic, and HORSES? Cap that off with mystery, action, and intrigue and I was MORE than sold.
Too bad the book failed to deliver on the last two points. I got almost halfway through this clunker without anything of interest happening. All the plot points felt mechanical, like the author ran through a checklist of what she thought she needed for an interesting story. It felt similar to "The Greatest Showman," full of tropes added for manufactured authenticity.
Which, with such a refreshing plot, is a SHAME.
I go into more detail with this idea later on, so I'll be brief: it bothers me when authors receive praise for unique ideas or props for representation with no consideration given to the story's execution.
The romance between Mare and Denna hits so many familiar notes. You can't rely on the novelty of same-sex YA romance to make your relationship compelling. Novelty is not enough.
This book reeks of wasted potential. Someone PLEASE rewrite this.
Get it Together, Delilah! by Erin Gough
Whoever designed this book deserves a medal. Overlarge, with weathered pages and a pleasing weight, this book felt right in my hand.
Reading the plot summary, I came away thinking this book would be a zany comedy about the wacky hijinks of a gay teenager. I mean, come on – the coffee stain? The cutesy font? The exclamation point? The use of the phrase "how in the name of caramel milkshakes?"
I was so, so wrong.
This book isn't bad so much as different from what I expected. Yes, the cover blurb mentions Delilah managing her father's cafe while he goes on a trip. I didn't realize he was depressed – as in, get your doctor to prescribe some Citalopram STAT. I didn't think Delilah would hide her various struggles to keep from aggravating her dad's mental illness. NO PART of me expected my own daddy issues to be triggered. If I'd known THAT, I WOULD NOT HAVE PURCHASED THIS BOOK.
I went in expecting laughs and found myself STRESSED OUT. The story's combined stresses of parental abandonment, financial insecurity, failure, and hostile work environment proved too much for my psyche. Know what's hilarious? Employees taking advantage of their teenage bosses. Here's a joke for you: CULTURAL HOMOPHOBIA. Isn't it hysterical when closeted lesbians make others' lives hell? The onslaught of misery never ended.
As soon as I finished this book, I hurled it onto my Books to Sell pile and never looked at it again.
Zodiac Starforce by Kevin Panetta and Paulina Ganucheau
For someone with no interest in astrology, I have a pretty huge obsession with the zodiac. I buy pretty much anything zodiac-related, including fiction.
I'm also fond of the magical-girl genre, having grown up on "Sailor Moon." As a kid, I loved watching powerful women fight the forces of evil and win the hearts of tuxedoed men. This series may have fueled my not-so-secret desire for a magical girl squad, a dream that dies a little bit every time one of my friends gets married. (#stop)
I drooled over this graphic novel for months. Star signs AND magical girls? COULD THIS BE??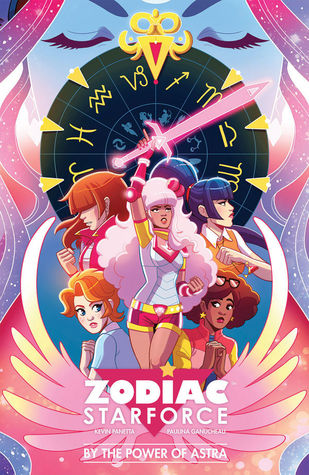 The store I frequented shrinkwrapped their copies, so I couldn't peek at the pages. I ended up buying a copy for my best friend's birthday, telling myself I would borrow it once she finished.
A week later, I decided I couldn't wait that long.
This novel isn't…bad? I guess? The art is great? The concept is interesting?
I just don't care.
My friend and I tried to play "Who Would You Be?" and found we couldn't remember the characters' names. A huge plot twist happens near the end and I could only think, "Wow, this would have been more interesting had I been invested…"
It breaks my heart to think this idea was only ever good in theory.
And now my squad dreams are completely dead.
Yay, adulthood.
Aristotle and Dante Discover the Secrets of the Universe by Benjamin Alire Saenz
Before we talk about this book, we have to talk about infamous YA author Alex Sanchez.
Alex Sanchez wrote the Rainbow Boys series in the early 2000s. While researching my thesis, I found out his books have been banned numerous times, making Sanchez something of an anti-censorship hero. Sanchez's books have been praised for tackling the topic of homosexuality in the mainstream at a time when not much queer YA literature existed.
Unfortunately, Sanchez doesn't write…well.
Granted, I read his books more than a decade ago. My dislike can be attributed to my age, the timing of my reading, or my style preferences. Even though I don't like his books, I don't want to dismiss what Sanchez has done for the queer canon.
However, reading Sanchez's work has left me with an impression of Sanchez as an author more valued for subject matter than skill.
What the culture considers groundbreaking isn't always good.
(*cough cough* DAVID LEVITHAN. *cough cough*)
So, when I read Benjamin Alire Saenz's award-winning 2014 novel about gay teens, I found myself feeling the exact same way.
LOOK how many awards grace that cover!
James Howe called this book "breathtaking."
The friend who recommended it to me used words like "beautiful" and "precious" and "perfect."
BookTubers I respect cite this book as one of their favorites.
I hated the clunky prose as soon as I started reading.
I often hear the argument that simplistic first-person YA prose "nails the teenage voice." "Real" teenagers don't sound like award-winning novelists; they sound like teens with underdeveloped frontal cortexes. So you can't blame writers for coming off as awkward, dramatic, or stupid – that's just how teens ARE.
To convince me with that argument, you better back a strong character. Well-written, believable characters can excuse "simplicity" in voice, tone, style, or plot.
I don't find Ari compelling enough to carry an entire story. Much of the time, I found it hard to sympathize with him. I seemed to be missing the emotional connection others felt.
I also think the "teenage voice" argument misses the fact that writing is an art. It's not enough to have your narrator say, "I feel sad sometimes." Sure, real teens feel sad sometimes, but this narration doesn't fully portray their perspective or capture the nuance of the teenage experience. Stating facts doesn't make a work feel real.
So while I tried to connect, I found the writing too simplistic to enjoy. I'll be avoiding Saenz's work in the future regardless of the awards it wins.
The search for good books continues.