Can't stop, won't stop.
I'm not cool enough to use sassy hashtags on Twitter. I will GLADLY use them for books, though.
Shout-outs to creator The Orangutan Librarian and to Book Hooked Nook for inspiration.
#NOTALL COVER CHANGES
A COVER CHANGE YOU LIKED
The original cover for this classic is one of the worst covers I've ever seen.
I bought a more tolerable version in 2011. A few years later, the publisher released a new cover that matched I'll Give You the Sun.
At Half-Priced Books, I was outraged to see an even NEWER edition that I JUST loved.
I CAN'T KEEP BUYING BETTER-LOOKING EDITIONS OF BOOKS. RENT IS GOING UP.
#NOTALL ADAPTATIONS
AN ADAPTATION YOU LOVE MORE THAN THE BOOK
As a book, Ella Enchanted sucks. Tell your friends.
I know, technically speaking, the movie isn't GOOD, but it has everything I love in film. Anne Hathaway does a great job, and, as a teen, I had the hugest crush on Slannen.
Huh…over the years, I've tried to imagine what it might be like to date a short person, but I've never been able to picture it.
Ella Enchanted shows the height difference between Ella (5'9″) and Slannen (5'3″).
So THAT'S what it looks like…
#NOTALL TROPES
A TROPE YOU'LL NEVER TIRE OF SEEING
Oh dear…is there a sassy bad boy or girl in the house?
I believe I've found my new favorite character.
Here's the catch, though: they have to actually be charming and funny, not just treated that way by other characters.
In other words, I hated Jace Wayland, Simon Lewis, and Will Herondale.
AND I'M NOT SORRY.
#NOTALL INSTALOVE
YOU INSTALOVED THIS INSTACOUPLE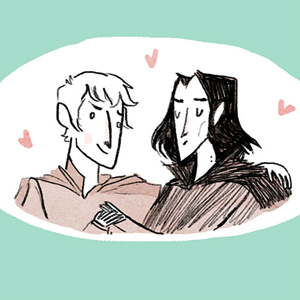 I carried my love of Simon and Baz from Fangirl into Carry On.
Queer wizards in love.
I shipped with abandon.
#NOTALL LOVE TRIANGLES
AN EXAMPLE OF LOVE TRIANGLE DONE WELL
I have problems with the resolution of this triangle, but the initial set-up was BRILLIANT.
In this case, the sassy bad boy (who I hate) gains sympathy by
expressing genuine emotional trauma
that doesn't involve hawks
I so wish Cassandra Clare had gone with a different ending.
#NOTALL PARENTS
BOOKISH PARENTS THAT, YOU KNOW, PARENT!
Trixie's parents actually try.
At the end of the novel, they ground her for keeping secrets and skipping school.
Solid effort.
#NOTALL VILLAINS
A VILLAIN YOU LOVE
I have a hard time with book villains.
I mostly hate them, unless they angle for an antihero role or a redemption arc.
In that case, I love Baz. Yes, I used the same book twice in one post.
He's not actually a villain, but I can't put Kylo Ren, my true favorite.
And…I don't want to say Baz and Kylo are the same character, because they're not…
…but the Simon/Baz pairing perfectly reflects the Kylo/Hux ship.
THINK ABOUT IT.
#NOTALL CHOSEN ONES
A CHOSEN ONE YOU CAN GET BEHIND
In 2015, people began criticizing Chosen One narratives in earnest. Buzzfeed came down on Harry Potter for starting the tiresome trend.
I really like Harry. I think people are too hard on him. HE HAD DEAD PARENTS AND A PROPHECY TO DEAL WITH, OKAY?
In the Harry Potter series, J. K. Rowling twisted the prophecy just enough to make things interesting.
Voldemort chose the HALF-BLOOD. He made things PERSONAL.
HE COULD HAVE PICKED NEVILLE. I'll take a preternaturally gifted kid over a bumbling, unskilled nobody. I find the latter trope MUCH more offensive.
#JusticeforHarry
#NOTALL HYPED BOOKS
A BOOK THAT LIVED UP TO THE ACCLAIM
All of you were right – this WAS a great book.
Apologies, Leigh Bardugo. I was wrong.
#NOTALL MAGICAL REALISM
A BOOK YOU'RE NOT KEEN ON FROM YOUR FAVOURITE GENRE
My disappointment in you is neverending.
Celine Dion was wrong – the heart does NOT go on.
#NOTALL [REDACTED]
A BOOK YOU LIKED FROM A GENRE YOU DON'T OFTEN READ
I don't want to spoil the experience for anyone who hasn't read this.
I met people who REFUSED to tell me what this book was about.
I figured the protagonist went to an X-men Academy of sorts.
On a trip to Powell's, I read the first four chapters in the YA section.
It's not about X-men.
It gets graphic.
And it reminds me of New Girl's Nick Miller misspelling "rhythms" 38 times.
Do me a favor and read it.
Also, there's a film version that I haven't watched with some confusing racelifting. Avoid that until you finish the book.